Line 1:
Line 1:
 
+

{{Conjecture}}{{Stub}}[[File:Present-full.png|175px|right]]'''The {{PAGENAME}}''' is a pop-up present used to trap [[Papercraft Wendigo]]s. When a Wendigo runs into the {{PAGENAME}} in its flat state, it pops up and traps the Wendigo.

−

#REDIRECT: [[w:c:gbwg]]

 
 
+
 
+

==Gallery==

 
+

<gallery>

 
+

present-flat.png|Before --->

 
+

present-inbetween.png|---> In-Between --->

 
+

Present-full.png|---> Afterwards

 
+

</gallery>
---
Revision as of 21:46, 18 November 2013

"I found old Sogport, by its noise and its stench..."
This article is a conjecture. No official name is known for it.

"I couldn't believe my eyes..."
This article or section is a stub. You can help Tearaway Wiki by expanding it.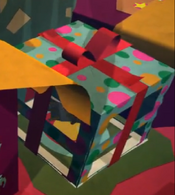 The Present Trap is a pop-up present used to trap Papercraft Wendigos. When a Wendigo runs into the Present Trap in its flat state, it pops up and traps the Wendigo.
Gallery