m

Line 4:
Line 4:
 

==Plot (Summary)==

 

==Plot (Summary)==

 

The player controls [http://tearaway.wikia.com/wiki/Iota Iota], who must advance through stages by manipulating the surrounding world. The environment is constructed with a flat, 2D paper

 

The player controls [http://tearaway.wikia.com/wiki/Iota Iota], who must advance through stages by manipulating the surrounding world. The environment is constructed with a flat, 2D paper

−

<span style="font-family:Arial,Helvetica,sans-serif;font-size:12px;line-height:17px;">"Tearaway is kind of like a buddy movie. It stars iota, a messenger from a paper dimension, whose envelope head contains an urgent message to deliver… to you! It's a very special message, and one that's unique for each and every player. In order to read yours, you'll need to take up the role of co-star and, together with iota, journey through the vibrant papery landscape — two buddies going on an epic adventure... </span><span style="font-family:Arial,Helvetica,sans-serif;font-size:12px;line-height:17px;">You and iota will travel afar, taking on enemies and helping those in need. You'll conquer adversity and discover magical papery surprises. But in Tearaway, you're holding more than just a PS VITA</span> <span style="font-family:Arial,Helvetica,sans-serif;font-size:12px;line-height:17px;">in your hands — you're holding the paper world itself!" [1]</span>

+

<span style="font-family:Arial,Helvetica,sans-serif;font-size:12px;line-height:17px;">"Tearaway is kind of like a buddy movie. It stars iota, a messenger from a paper dimension, whose envelope head contains an urgent message to deliver… to you! It's a very special message, and one that's unique for each and every player. In order to read yours, you'll need to take up the role of co-star and, together with iota, journey through the vibrant papery landscape — two buddies going on an epic adventure... </span><span style="font-family:Arial,Helvetica,sans-serif;font-size:12px;line-height:17px;">You and iota will travel afar, taking on enemies and helping those in need. You'll conquer adversity and discover magical papery surprises. But in Tearaway, you're holding more than just a PS VITA</span> <span style="font-family:Arial,Helvetica,sans-serif;font-size:12px;line-height:17px;">in your hands — you're holding the paper world itself!" [1]</span>

 
 
 

==Features==

 

==Features==

 

The player must alter the surrounding environment by the use of the Ps Vita's touch pad. By tapping the rear touch panel or by blowing into the microphone, players can poke through paper walls, or summon a large gust of wind. Iota carries an important letter inside of him, and the player must guide him to it's destination.

 

The player must alter the surrounding environment by the use of the Ps Vita's touch pad. By tapping the rear touch panel or by blowing into the microphone, players can poke through paper walls, or summon a large gust of wind. Iota carries an important letter inside of him, and the player must guide him to it's destination.

 

<span style="font-family:Arial,Helvetica,sans-serif;font-size:12px;line-height:17px;">"Using the god-like powers inherent to someone who can hold an entire world in their giant hands, you can make your presence felt using a wide range of godly powers that take advantage of all the PS Vita's bells and whistles — some subtle and some epic. You can shake things up or turn them upside down. A gentle breath from you is a gusty storm. You can even poke your fingers into the back of the PS Vita to tear through into the world and help iota complete this very special delivery." [1]</span>

 

<span style="font-family:Arial,Helvetica,sans-serif;font-size:12px;line-height:17px;">"Using the god-like powers inherent to someone who can hold an entire world in their giant hands, you can make your presence felt using a wide range of godly powers that take advantage of all the PS Vita's bells and whistles — some subtle and some epic. You can shake things up or turn them upside down. A gentle breath from you is a gusty storm. You can even poke your fingers into the back of the PS Vita to tear through into the world and help iota complete this very special delivery." [1]</span>

 
+
 
+

==Videos==

 
+

<gallery widths="200" spacing="small" columns="3" position="center" captionalign="center" hideaddbutton="true">

 
+

File:Tearaway Trailer|Tearaway Trailer 2

 
+

</gallery>

 
+
 

==Sources==

 

==Sources==

 

[1] : [http://blog.us.playstation.com/2012/08/14/media-molecules-new-project-revealed-tearaway-for-ps-vita/ Media Molecule's New Project Revealed: Tearaway for the PS VITA]

 

[1] : [http://blog.us.playstation.com/2012/08/14/media-molecules-new-project-revealed-tearaway-for-ps-vita/ Media Molecule's New Project Revealed: Tearaway for the PS VITA]
---
Revision as of 22:53, 8 February 2013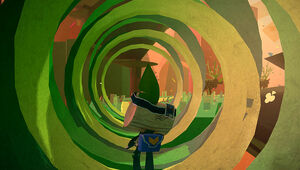 Tearaway is an upcoming PS Vita video game due to be released in early 2013 and developed by Media Molecule and published by Sony Entertainment.
Plot (Summary)
The player controls Iota, who must advance through stages by manipulating the surrounding world. The environment is constructed with a flat, 2D paper "Tearaway is kind of like a buddy movie. It stars iota, a messenger from a paper dimension, whose envelope head contains an urgent message to deliver… to you! It's a very special message, and one that's unique for each and every player. In order to read yours, you'll need to take up the role of co-star and, together with iota, journey through the vibrant papery landscape — two buddies going on an epic adventure... You and iota will travel afar, taking on enemies and helping those in need. You'll conquer adversity and discover magical papery surprises. But in Tearaway, you're holding more than just a PS VITA in your hands — you're holding the paper world itself!" [1]
Features
The player must alter the surrounding environment by the use of the Ps Vita's touch pad. By tapping the rear touch panel or by blowing into the microphone, players can poke through paper walls, or summon a large gust of wind. Iota carries an important letter inside of him, and the player must guide him to it's destination. "Using the god-like powers inherent to someone who can hold an entire world in their giant hands, you can make your presence felt using a wide range of godly powers that take advantage of all the PS Vita's bells and whistles — some subtle and some epic. You can shake things up or turn them upside down. A gentle breath from you is a gusty storm. You can even poke your fingers into the back of the PS Vita to tear through into the world and help iota complete this very special delivery." [1]
Videos
Sources
[1] : Media Molecule's New Project Revealed: Tearaway for the PS VITA