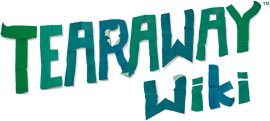 Welcome to the Tearaway Wiki
The Ultimate Source of Information about Tearaway!
All Pages - Images - Videos - Wiki Activity - Staff - Policy - Chat - Forum
Please read the Policy Page before editing.
Also, please note that the Tearaway Wiki contains spoilers about the game.
About
Tearaway is a PlayStation Vita game, developed by Media Molecule and published by Sony Computer Entertainment. The player controls Iota or Atoi, who must advance through stages. They must do this with your help, as you are able to manipulate the surrounding world. The environment is constructed with flat, 2D paper which is constructed to make 3D objects and characters.


Tearaway Unfolded is a PlayStation 4 game, which retells the original story using many new gameplay elements from the PlayStation 4, and a new extended storyline...
Featured Article
Iota is the male counterpart of Atoi and is one of the main protagonists of Tearaway and Tearaway Unfolded. He contains a special message within his envelope shaped head, and must deliver it.

Iota is a small letter that falls into the Tearaway world at the beginning of the game. Pieces of paper then surround him, and become parts of his body. This is when he wakes up, and the adventure begins.
Videos
Site Trivia
Did you know that the Tearaway Wiki has ...

106 Articles

449 Files

...And 1 Active Users!
Not sure where to start?
First, why don't you sign up to become a new member in the Tearaway Wiki Community!
If you are new to Wikis, check out the tutorial.
Uploading images is a really easy way to help out. To upload a single file, see the upload page. To upload multiple files, click here.
---
Need help for doing something else? Send a message to one of our
staff members
!
Affiliates of the Tearaway Wiki
Want to make your wiki affiliated with this one? Make your request here!
---
Need something to say? Want to chat with the other wikians? Join the Tearaway Wiki Chat!