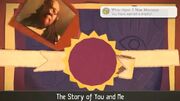 The Message is the fifth and final location in Grand Tear, and the final location in Tearaway. After you complete this location, the credits will play.you will also get 2 iota papercrafts

"I couldn't believe my eyes..."
This article or section is a stub. You can help Tearaway Wiki by expanding it.